In a virtual world, there is always an element of doubt when sending or receiving sensitive information. A large percentage of internet users leave websites when asked to provide any information about themselves, simply because the website was not a secure website. There is no better way of building users' trust than by enabling SSL on your website and getting an SSL Certificate for your website. To allow you to secure your website, we offer Verisign, Thawte, Rapid and Geotrust SSL Certificates.
EV SSL Certificates
An Extended Validation (EV) SSL Certificate from provides customers more confidence that they are interacting with a trusted web site and their information is secure. An EV SSL certificate triggers high-security web browsers to display your organization's name in a green address bar, and to show the name of the Certificate Authority that issued it. The Certificate Authority authenticates web sites with an audited, rigorous methodology. High-security web browsers control the display, making it difficult for phishers and counterfeiters to hijack your brand and your customers.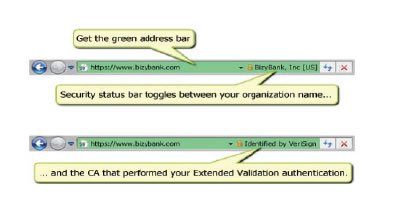 Wildcard SSL Certificates
A wildcard SSL certificate covers unlimited sub-domains within a single certificate. It is issued to *.yourdomain.com. This can make it extremely useful if you need to secure multiple sub-domains under the same domain. It is important to note that the wildcard will not secure yourdomain.com.
Note: If you wish to use SSL Certificates with a hosting package with us, you must order or already have a package that has Dedicated IPs and allow SSL Certificates